Client story
Our first cycle of work with the client combined platform development with establishing financial funding for business growth
The first stage of our collaboration began with basic version development of a marketplace platform. Our client's primary goal was to minimize time and financial expenses for market entry while getting a flexible product with future scalability.
The Roobykon Software team chose an Open Source version of the Sharetribe platform as the core technology to achieve the client's objectives. This allowed us to develop a functional service, bring it to market, and gain initial users all in just a month.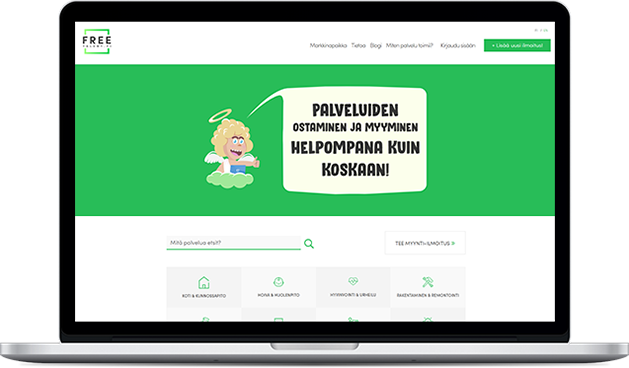 Along with a basic set of marketplace tools, we implemented the following solutions:
• A unified user registration form – both clients and contractors initially sign up through the same form, with their role allocated later on. This approach simplified the initial registration process and made the service more accessible.
• Distinct Individual Accounts and Business Accounts – as Kyvykäs has different terms of use for individuals and corporate entities.
• Subcategories within each service category to search for professionals and services more convenient.
• Service packages for certain categories, allowing contractors to offer their clients a wider variety of collaboration options.
Kyvykäs' launch – and the opportunities it presented for nationwide job creation – drew significant attention in Finland. The founders received a grant from the government and secured funding for the project's future development.
The second cycle of work with the client focused on customization of the offer system and development of the service messenger
In today's service marketplace, clients have gotten accustomed to being able to discuss terms in detail before making decisions on future collaborations. From agreeing discounts to establishing time-management and data-provision expectations, communication is key in building mutually-beneficial relationships.
In this project, the client asked Roobykon Software to improve its existing offer system to create a new, client-oriented solution.
After a thorough business analysis, our team developed a custom offer architecture using a nonstandard message exchange platform. This improved Kyvykäs users' interaction flexibility, allowing them to offer and alter contract terms while retaining all previous negotiation stages in the system.